Hidden Gems of Impressionism
By Javier López Iglesiasprint (Translation from Spanish) They broke all the codes. Guided by an inalienable creative spirit, the Impressionists -each one following their innovative vision- painted what they wanted and how they wanted. This is confirmed by the magnificent documentary Hidden Jewels of Impressionism, which allows fifty works to be contemplated, many of which, because they belong to private collections, had not been publicly exhibited until now.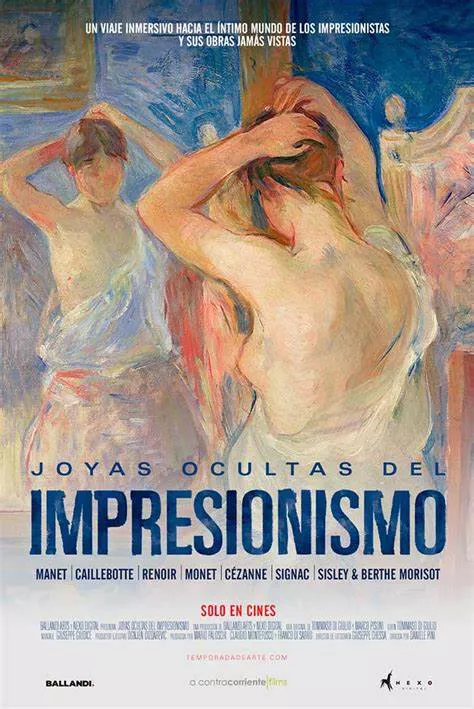 Directed by Daniele Pini, the feature film explores the artistic revolution brought about by the Impressionist movement, and it does so through treasures shown for the first time in Rome at the Palazzo Bonaparte on the occasion of the exhibition created and produced by Arthemisia. An exceptional exhibition that brings together hidden works, among others, by Claude Monet, Pierre-Auguste Renoir, Berthe Morisot, Camille Pisarro, Alfred Sisley, Eduard Manet and Gustave Caillebotte.
Through luminous photography and the testimonies of artists and scholars , Hidden Gems of Impressionism examines how the Impressionists saw the world, how they related to technique, color, light, and the world of shapes and perspectives they created before the eyes of the world.
It also reviews the reception his works received, or how his art, in a few years, went from being outright rejected by critics and the public to being recognized, largely thanks to the determined support of the dealer Paul Durand-Ruel, as one of the most universally admired movements.
Few times in the history of painting has an artistic movement left such a deep and imperishable mark as that cultivated, against all odds, by twenty creators concentrated in Paris and its surroundings.
As historian Pamela Todd points out: "The carefree playfulness of his canvases, the vivid colors, flowing brushstrokes, and luminous scenes evoke in us a sense of well-being and a certain nostalgia for a time when love and light, fun and friendship rose above the pesky pecuniary concerns of daily life. In his own time, his works were met with derision. The Hall did not embrace their immediacy, freshness and improvisation, finding them deeply radical or provocatively anti-establishment, and neither did the public,the actuality of the present ".
Painting what the eye sees, or as Cézanne would say "what the eye thinks it sees", with the aim of not capturing what is already known, is an idea that emerged in the Renaissance that crystallized in that new way of seeing nature, landscapes, environments, bodies and colors reflected in their works by the artists who, after many ups and downs, held their first collective exhibition in the studio selflessly donated by the photographer Nadar in April 1874.
The very interesting documentary that is now being presented offers the unique opportunity to get closer to a series of works that, until now, had been hidden from the viewer's eye. Pieces of as much value as those popularly known. That fact makes Hidden Gems of Impressionism an extraordinary journey that no one should avoid.
Hoyesarte.com