How 'Benedetta' brings us back to a Verhoeven closer to his beginnings with an amazing sinful comedy
Kiko Vega (Google translation from Spanish)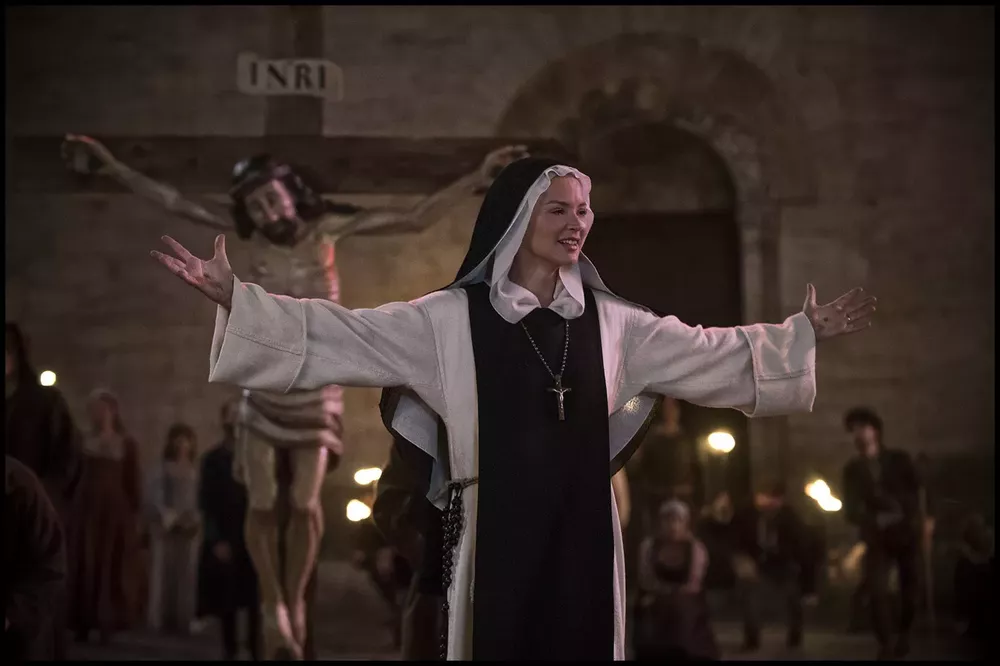 Paul Verhoeven is one of us. From his "delicious" run to his hit-and-run from Hollywood, this Flying Dutchman has provided more hours of frenzy and fun than any other fellow generation. At 83 years old, he shows himself in top form with ' Benedetta ', his latest prank, already available on platforms .
Interior of a convent as you can

XVII century. The plague spreads through Italy and little Benedetta Carlini joins the convent of Pescia in Tuscany. From an early age, Benedetta can work miracles and her presence in her new community will change many things in the lives of the sisters and the reality of the moment.



IN ESPINOF
13 Memorable Nun Movies That Will Rock Your Habits
With such source material, the possibilities in telling this story can go in any conceivable direction. Erotic seventies arthouse or harrowing dramas in search of recognition would be two of the most obvious options, but the old Verhoeven has decided to take the least expected path: exploitation. Moving away from the period drama and closer to the pink series, the director recovers his breath and pulse, but above all his hard face.
To do this, the director of some of our untouchable films (' Robocop ', ' Total Challenge ') resorts to his medieval wisdom, the coarsest humor and the eschatological environment that he knows best. Perhaps someone expected to meet again with the filmmaker from ' Basic Instinct ' or ' Showgirls ', but surely no one was betting on bumping into the one from ' The Lords of Steel ' (Fresh+Blood, 1985). Not bad for a few days where it is increasingly difficult to witness sacrileges like this.

Exploring the life of a nun in full sexual awakening and capable of working miracles, the film is an unbeatable vehicle for showing off its perverse director and its two excellent protagonists . The Virginie Efira - Daphne Patakia couple shines in their attraction to the fire of temptation and sin. Paul Verhoeven once again bets on digital, with photography by veteran Jeanne Lapoirie ('The Wild Reeds'), who is working for the first time with the Dutch filmmaker offering a stupendous naturalist staging.

IN ESPINOF
Paul Verhoeven: everything you need to know in 5 essential points
Based on the book 'Immodest Acts: The Life of a Lesbian Nun in Renaissance Italy' (Judith C. Brown, 1986), 'Benedetta' is not the most subtle film of its director, something that also seems to be the force that pushes an octogenarian who has based his career on freedom and provocation. After ' Elle ', a much more claustrophobic film, it seems that Verhoeven also needed more space and bigger ambitions .

In its own way, there is a sense of the epic in 'Benedetta', although it is not about what one might first understand with the term. Here it will be, mainly, his outbursts that provoke laughter at the least expected moment. But let no one go crazy: it's all damned voluntary. And every time Verhoeven decides to go a step further in the inner story of his protagonist, comedy is guaranteed . Comedy gore, too. It cannot be more faithful to its principles.
In a time when it seems that everything should be in its place, without outbursts and, as the canon dictates, woke up, 'Benedetta' is a satisfying and unapologetic tour of shamelessness . And although the balance is there, perhaps it underlines too much the desire for one last one? party of a director who knows that he has little left in the convent. And we already know what the saying goes.