'Agents 355': a solvent video store 'Charlie's Angels' that fails to live up to its powerful cast
Jorge Loser (Google translation from Spanish)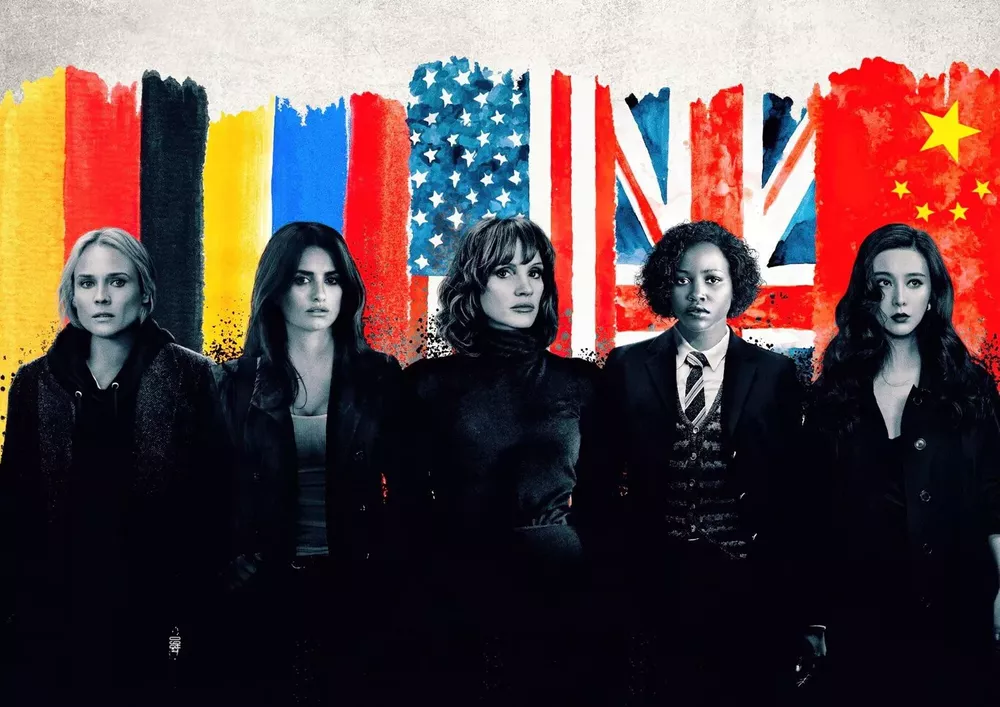 ' Agents 355 ' has been released , a spy movie directed by Simon Kinberg that has managed to bring together a cast full of top-level names, led by Jessica Chastain along with none other than Lupita Nyong'o, Diane Kruger, Penelope Cruz or Fan Bingbing , each of them representing a different country and accompanied by actor Richard Madden, among others.

'Agents 355' is reminiscent of those adventures of producers in the 80s and 90s whose strategy was to hire a bunch of big stars, put them on the bill with guns, sell the project and then write a script. A kind of version of 'Charlie's Angels' for a video store with a certain air of a film from the early 2000s for the better –it is still a film focused on more or less unprejudiced entertainment– and for the worse, because its finish is very anachronistic and somewhat behind the average of current action cinema.
volume 90%




Directed by ' X-Men ' movie veteran Simon Kinberg, who co-writes the screenplay with Theresa Rebeck , 'Agents 355' amalgamates a collection of spy movie clichés that work for comfort, never get in the way, and always seem enter an undefined terrain of the familiar and what promises to go beyond. It begins with a prologue set in Colombia that introduces us to the movie's MacGuffin, a device with an app with the power to shut down city networks and shoot down planes among other apocalyptic effects.
armed and dangerous
Between the global dangers of 'Mission: Impossible' and the plot of the highly underrated ' Jungle 4.0 ,' the security of the world depends on CIA agent Mason "Mace" Browne (Jessica Chastain) and his partner (Sebastian Stan), they must attempt to acquire the deadly object, leading to a run-in with German agent Marie (Diane Kruger) and the involvement of Graciela (Penélope Cruz), an intelligence therapist who is the only one not used to using weapons.

IN ESPINOF
The 11 best spy movies and series based on the work of John le Carré

Reluctantly forced to cooperate with Marie after taking a few hits, Mace enlists computer genius/hacker Khadijah (Lupita Nyong'o) to track the device in all sorts of locations around the world, from cafes to from Paris to a bustling bazaar in Marrakech and a high-society art auction in Shanghai, where the mysterious Lin Mi Sheng (Chinese star Bingbing Fan), joins the party as if we were actually in an Indiana movie. Jones with many more interested parties in the treasure .
There is a bit of spirit to the Bourne films when Kinberg makes use of their most famous stylistic flourish, shaking the camera as if the action scenes were shot in motion , but overall it creates a sloppy, as if Budget difficulties would have meant that a lot of material had to be shot very quickly with the idea of ​​fixing it in the cutting room. They are acceptable scenes but they seem like a movie of a fair level in a market scenario that even a small premiere on Netflix seems more sophisticated.

Effortless entertainment
There's nothing incoherent, and it's entertaining, but basic lighting or repetitive details like gratuitous 360-degree sweeps around characters don't help. The eternal evil of current blockbusters of alternating spectacular scenes with pieces of dialogue does not work either, a regime that here is irregular, changing and unbalanced, with the aggravating factor of the duration of the film of more than two hours that seem much more .

IN ESPINOF
The 23 best action movies of 2021

The score seems to be taken from a music bank for spy movies that needs to be renewed in the catalog and sometimes its use does not fit with the images, adding to certain production and editing problems that do not quite explain what they intend with efficiency , for example in maneuvering the bag in the auction scene. At least Stephanie Collie's costume design manages to make these glamorous actresses believable as agents day and night.
'Agents 355' is not so bland or terrible, but if it gives the impression of being far below what a group of stars like these could or should demand, at times it seems like the pilot of a television series and at others a one of those more or less cheap films that the great action stars of the 90s were having to accept when their generational changes arrived, only that here most of the faces are the present, and in the case of Nyong'o or Fan not they have just exploded completely, hopefully this does not represent the future of the cast.