The Batman Film Review
REVIEWS
07 de marzo de 2022
Por

George Wolf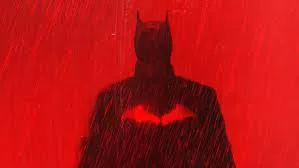 The question is plenty familiar.
"Who are you?"
But the answer isn't the one we're expecting, and it's an early declaration that there's a new cape in town.
"I am…vengeance."
Talk about your dark knights. Director/co-writer Matt Reeves and star Robert Pattinson make Mr. Nolan feel like Mister Rogers in comparison. Anyone looking for the recent superhero giddiness of No Way Home will find none, while comic purists may finally discover the treatment they've been clamoring for all along.
For the rest of us, The Batman delivers a defiant, somewhat overstuffed vision, one that embraces darkness of theme and palette while crafting several truly dazzling visual set pieces.
Reeves (Cloverfield, Let Me In, Dawn of and War for the Planet of the Apes) wisely skips the backstory intro, giving us Bruce Wayne (Pattinson) some two years into his "Gotham Project." Alfred (Andy Serkis) worries about the family finances, while Master Wayne is only interested in feeding his vigilante alter ego.
But while Bruce is watching the city, the mysterious Riddler (Paul Dano, taking the legendarily comic villain in a terrifying new direction) is watching The Batman, leaving personalized messages with each new assassination.
His puzzles draw Batman, Commissioner Gordon (Jeffrey Wright) and a resourceful waitress with hidden talents of her own (Zoë Kravitz as Selina Kyle) deep into the Gotham organized crime scene run by Carmine Falcone (John Tutturo ) and Oswald "The Penguin" Cobblepot (Colin Farrell under some astounding makeup). There is no shortage of characters at play, and Reeves struggles to justify all of them in one film.
At stake are long-held secrets about Gotham that the Riddler wants "brought into the light," some of which will challenge what you think you know about the birth of the Bat. And that seems only appropriate for a film that challenges expectations of its genre with a narrative more reminiscent of Seven than anything we've seen from DC or Marvel.
So dark, and so rainy.
Pattinson's Emo Batman works well within the structure and aesthetic Reeves develops. He carves out a very different crusader, one more introspective and heartbroken than righteous. This Bruce Wayne views the bat signal as both a call and a warning, and Pattinson is able to effectively keep the tortured soul's head above self-pitying water.
Dano's exceptional, Farrell's fun, and Kravitz develops an intriguing antihero of her own. People talk about Joker's lineage, but Catwoman is another iconic villain. Eartha Kitt, Julie Newmar, Michelle Pfeiffer and Anne Hathaway have all left their mark, but Kravitz sidesteps broad stroke villainy in favor of something nuanced and human.
But ultimately, what makes this film most interesting is the way Bruce Wayne struggles to justify the consequences that The Batman has had on Gotham, and the surprising side of hero worship. Where is the line separating savior and sinner? And who gets to draw it?
Reeves isn't the first to pull Batman into these relevant questions, but he raises them with a commitment fierce enough to generate excitement for yet another trilogy. And though there's no surprise waiting after the credits here, keep an eye out for a villain to be named later.