The glove of the goddess
GENERAL
20 de agosto de 2022
Por

Jose Gonzalez Nunez (Google translation)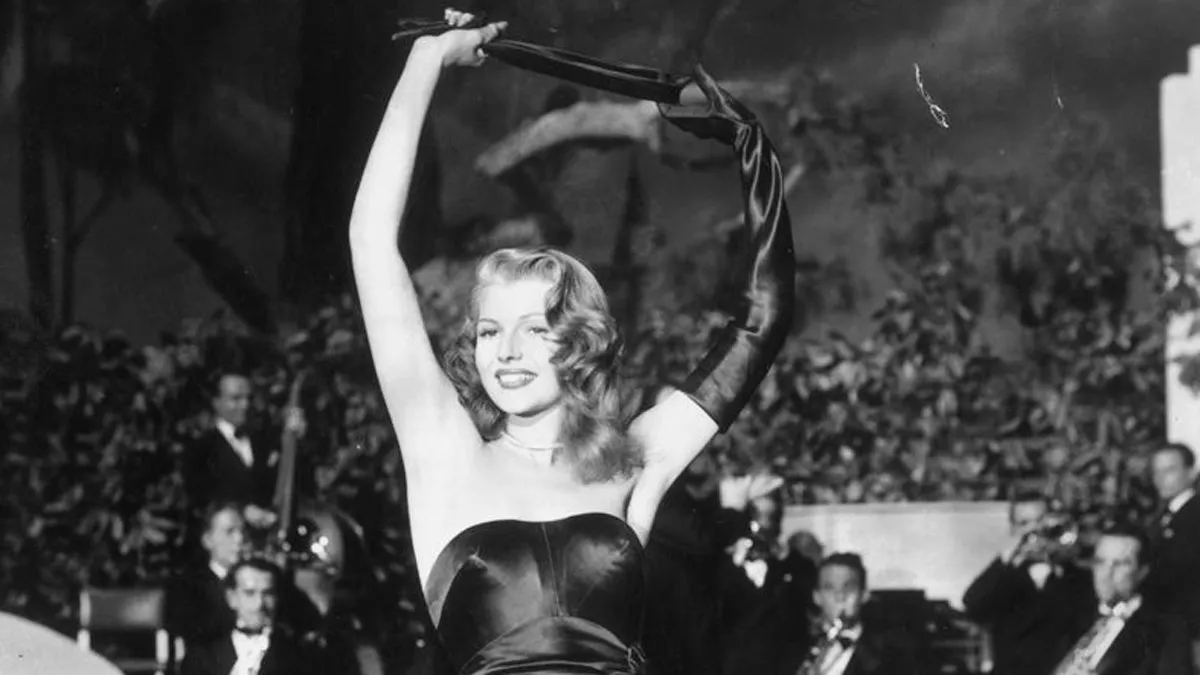 Before giving life to Gilda, the character that marked her destiny was Rita Hayworth and, before being Rita, it was Margarita Carmen Cansino, a precocious dancer who carried in her DNA the epigenetics of good flamenco dancers. According to Guillermo Cabrera-Infante "she was more than a beauty of cinema, more than a vampire, more than the idol that the century turned her into (...) she was a goddess tailored to the times, but, curiously, nobody with less it was so much".
The Spanish blood that ran through her veins was pumped by a good heart, more similar to that of her Irish mother (Volga Hayworth), than that of her domineering Sevillian father (Eduardo Cansino), who forced her to drop out of school to make her his partner. dancing in casinos and joints in the western United States and Mexico. Her paternal abuse was not only labor, but also personal and, according to her chronicles, even sexual, forcing her to be a woman rather than a girl her age. Marga (Rita) was born in Brooklyn the year of the so-called "Spanish flu" and has always had a shy and somewhat naive personality, showing herself throughout her life as a woman of contrasts in her personal relationships, vulnerable and, mysterious in a way.
Her artistic career began at the age of 13 as Rita Cansino, replacing her aunt Elisa (it seems that she was the one who taught her to dance) as her father's dance partner in Dancing Cansino . Winfield Sheehan, head of production for Fox, discovered her one day at the Agua Caliente casino in Tijuana, when Rita was barely 16 years old and set out to turn the dancer who had enthralled him with her seductive dances into a movie star. to seduce the general public.
She had just turned 16 when she made her debut as a dancer in The Satan Ship (Harry Lachman), a film starring Spencer Tracy. However, the merger of Fox, which was going through serious financial problems, with Twentieth Century Pictures brought about her dismissal from the new company, in which Sheehan was no longer there to protect her. Faced with the prospect of having to return to the stage with her father, she entrusted herself to the careerist Edward Judson, whom she would marry at the age of 19 and who would provide her with a new contract with Columbia Pictures, through Harry Cohn, director of the company that would eventually become one of his many nightmares. It was the start of her cinematic release.
He had his first major role in the Howard Hawks film Only Angels Have Wings (1939), in which he got his name to appear on the film poster alongside Cary Grant and other great Hollywood artists of the day. He then shot alongside Brian Aherne the comedy A Lady in Question (1940), by Charles Vidor, and some other films that were somewhat successful at the box office at the time, but little remembered afterwards.
In 1941 he had the first leading role in a Columbia blockbuster. It was in the musical From That Kiss , with music and lyrics by Cole Porter and direction by Sidney Lanfield, in which he had Fred Astaire as a co-star. A year later, she would return to co-star with Fred Astaire in the romantic film Dancing, Love is Born (William A. Seiter, 1942). Both films represented some of her greatest joys on the screen, if not the most, as she herself would recognize years later and made her the great star of Columbia, especially as a result of the iconic photo of her in the Life magazine . The great dancer would come to confess: "Dancing with Rita I felt for the first time that she had wings".
However, in 1941 she had re-signed a contract with Twentieth Century Fox, a company that had rejected her a few years earlier, under whose label she played, under the orders of Rouben Mamoulian, Doña Sol in the blockbuster Blood and Sand (1941) . , adaptation of the homonymous novel by Blasco Ibañez, in which he shared the leading role with the seductive Tyrone Power. Mamoulian would comment about Rita: "She was exceptionally photogenic and she was the most elegant seductress of the time. Her flame-colored hair cascading over her white shoulders and the perfection of her features made for a fabulous sight when she was shot in technicolor."
Around that same time he also filmed for Warner Bross, which had obtained a transfer contract from Columbia, The Redhead (Raoul Walsh, 1921), alongside James Cagney and Olivia de Havilland, and repeated with 20th Century Fox in My Girl favorite (Irvingg Cummings, 1942), next to Víctor Mature. While she was becoming a glittering movie star, her marriage to Eddie had definitely gone to waste and she had learned to avoid the almost permanent harassment of the obsessive Harry Cohn.
Soon Orson Welles would cross her path, who, by then, had already achieved genius status, both on the radio and in film and theater, at the same time that he had fallen madly in love with the actress. As a result of this second marriage, his daughter Rebeca (Becky) would be born.
If, on the cinematographic level, Rita would always remember her performances with Fred Astaire, on the personal level, her confession to Welles would remain: "The only happiness I have had in life has been with you". But, once the relationship ended, after two years of passion and many others of conflict, he would declare to a journalist: "If that was happiness, imagine what the rest of his life had been like."
During her relationship with the creator of Citizen Kane (1941), Hayworth starred in Charles Vidor's groundbreaking musical The Models (1944), opposite Gene Kelly and Phil Silvers, and the musical-themed tragicomedy Tonight and Every Night (1945) . ), by Victor Saville, alongside Lee Bowman and Janet Blair. However, it would be Gilda , a film directed in 1946 by Charles Vidor, with Glenn Ford as the star couple, which would definitively elevate her to the Olympus of cinematographic mythology. It is one of the great films of film noir, in which Rita stars in two of the most dazzling moments in the history of cinematography. The first is the suggestive interpretation in less than two minutes of the songBlame it on Mame , which included the most unusual striptease ever performed in front of a movie camera: she removed the glove from her right arm as if it were a stocking, exposing her elbow and forearm as if they were one of her thighs and her knee, and then she turned it with her hand, while provocatively moving her whole body. The second moment of glory was the scene of the slap given by her co-star, Glenn Ford, in response to the one that the actress had shaken him shortly before her. The film achieved box office records around the world, despite the fact that in some countries both scenes were censored. "There has never been a woman like Gilda," said the film's publicity.
About GildaRivers of ink have been written, but we are left with this portrait of the critic Ángel Fernández-Santos: "Gilda is almost an identity from the hidden background of that beautiful and unfortunate star, who made her beauty explode within a closer and more truthful character than it seems, because underneath his suicidal idea of ​​life and the tightrope walker's morality, on the edge of a razor, which the character boasts about, there is in him a subtle and almost secret representation of helplessness, fragility and innocence of the actress who created it. Hence, at the tip of the collective genius that made Gilda is Rita Hayworth in the flesh, a wounded woman who filled her character with herself and moved him with the impulse of her unhappiness (...). The director, a shrewd Hungarian exile who called himself Charles Vidor, and some co-stars,
There is no doubt that Gilda was the most important role in Hayworth's career and marked her cinematic peak. She would never again bring such an unforgettable character to life. However, in 1947, with her husband Orson Welles still directing, she starred in a film much more recognized by critics in later years than by the box office at the time of its projection in cinemas: The Lady from Shanghai , in which who appeared with short hair dyed platinum blonde, a change of image that did not convince the public, despite the good intentions of the director: "Orson was trying something new with me, but Harry Cohn wanted the Image… the Image he wanted! to keep until I was ninety!"
Other important titles in his filmography, once his relationship with Welles was left behind, were Los amores de Carmen (Charles Vidor, 1948), in the words of Terenci Moix, "the best Carmen in cinema", and La dama de Trinidad (Vincent Sheman , 1952). Despite Rita's good work in both and repeating a leading pair with Glenn Ford, neither of them achieved, even remotely, the success of Gilda.
Later he would shoot Salomé (1953), by William Dieterle, a recreation of the biblical character, and La Belle del Pacifico (1953), by Curtis Bernhardt, a version of a classic by William Somerset Maugham, while rejecting the leading role of The Barefoot Countess ( Joseph Mankiewicz, 1954). Later they would come, among other films , Pal Joey (George Sidney, 1957), a musical comedy based on a play, in which he played one of the characters in a love triangle completed by Frank Sinatra and Kim Novak; Hidden Fire (1957), by Robert Parrish, along with Robert Mitchum and Jack Lemmon; and Separate Tables (1958), by Delbert Mann.
On a personal level, the end of the 1940s and the following decade were marked by her romance, lavish wedding and labyrinthine divorce with the Persian prince Ali Khan, son of Aga Khan III, father of her daughter Yasmin. She would also end up sinking her subsequent marriages with Dick Haymes, singer, actor and, above all, hustler, and with film producer James Hill.
The year of his separation from Hill (1961) he filmed the comedy The Last Blackmail (George Marshall, 1961), where Rita Hayworth and Rex Harrison play a couple of thieves who intend to steal a work by Goya from the Prado Museum. In 1964 she acted in The fabulous world of the circus (Henry Hathaway), having as co-stars John Wayne and Claudia Cardinale; a year later he would return to film noir in The Money Trap (Burt Kennedy), with Glenn Ford and Joseph Cotten as protagonists. In the late 1960s and early 1970s he only worked occasionally. In 1972 he made his last film appearance in The Wrath of God.(Ralph Nelson). He had begun his physical and mental deterioration that would end his life in the spring of 1987, at 68 years of age.
His faithful friend Glenn Ford would dedicate these heartfelt words to him upon learning of his death: "I am sad, a dear friend has left me alone. Seeing the images of her, feeling the halo they give off, makes it all the more terrifying to think of her slow deterioration. Few like her managed to make the magic of cinema shine so much. And none could shine so high and with such joy of living. He was not one of those Rita referred to: "All the men I know go to bed with Gilda, but they wake up with me".