A Good Person Film Review
INTERVIEWS
21/04/2023
Brian Penn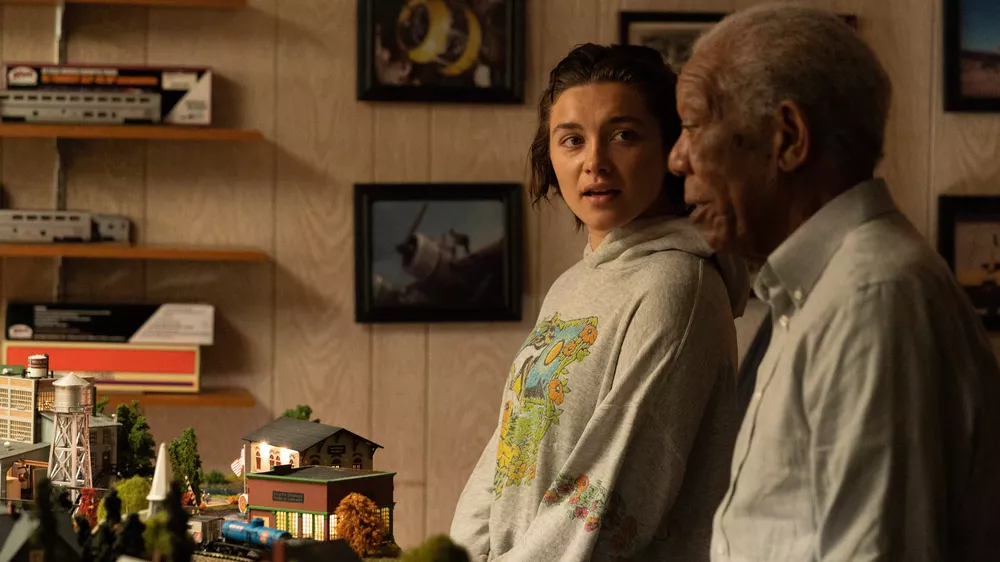 Psychologists often speak of the ripple effect where a series of consequences are caused by a single action or event. Like skimming stones on water the resulting waves impact far and wide. This new film by Zach Braff digs deep into the lives of characters in the aftermath of a catastrophic event.
Allison (Florence Pugh) seemingly has everything going for her; she has met the man of her dreams Nathan (Chinaza Uche) and they soon announce their engagement. However, the ideal is shattered when tragedy strikes Nathan's family. Allison's part in the event drives a wedge between the couple and they eventually separate. She resorts to alcohol and drugs in a vain attempt to cope with the past. Her mother despairs but persuades her to attend a self-help group. Purely by chance Nathan's father Daniel (Morgan Freeman) is a member of the same group. In sessions they slowly learn more about each other; particularly Daniel's fractious relationship with Nathan. This sets in motion a subsequent chain of events that will affect family dynamics again.
The classic stages of grief are portrayed in vivid detail as Allison endures shock, denial, anger, depression and finally acceptance. Although the emotional ride isn't as bumpy as one might expect. The characters aren't always drawn in the most sympathetic light, so there is less inclination to feel sorry for them. It becomes a more authentic portrayal of what grief can do to people; and readily accepts it can bring out the best or worst in the human condition. This makes the narrative much stronger as the characters can be viewed with more dispassion. It doesn't tug at the heartstrings as a story of this type very easily could. But presents an already dysfunctional family with a double whammy; a traumatic event followed by the inevitable fallout.
More often than not it's the actors that save a film and both leads are at the very top of their game. Florence Pugh is brilliant as the talented musician who plunges to the depths of addiction but finds peace and redemption. Morgan Freeman delivers a typically gritty performance as the ex-cop fighting his demons and estrangement from his son. In the hands of less talented actors it would have badly hit the rocks. But the quality of acting compensates for any deficiency there might be in the script and plot.

Te puede interesar