Filmmakers Take Action: A New Digital Safety Resource and Free Digital Safety Clinic
NEWS
18 de enero de 2022
Por

By Olivia Martin
As documentary filmmakers tell brave stories, those stories are accompanied by great risks. Today, we're launching a free digital security resource and training clinic designed specifically to help film professionals navigate those risks, assess best practices, and improve their digital security.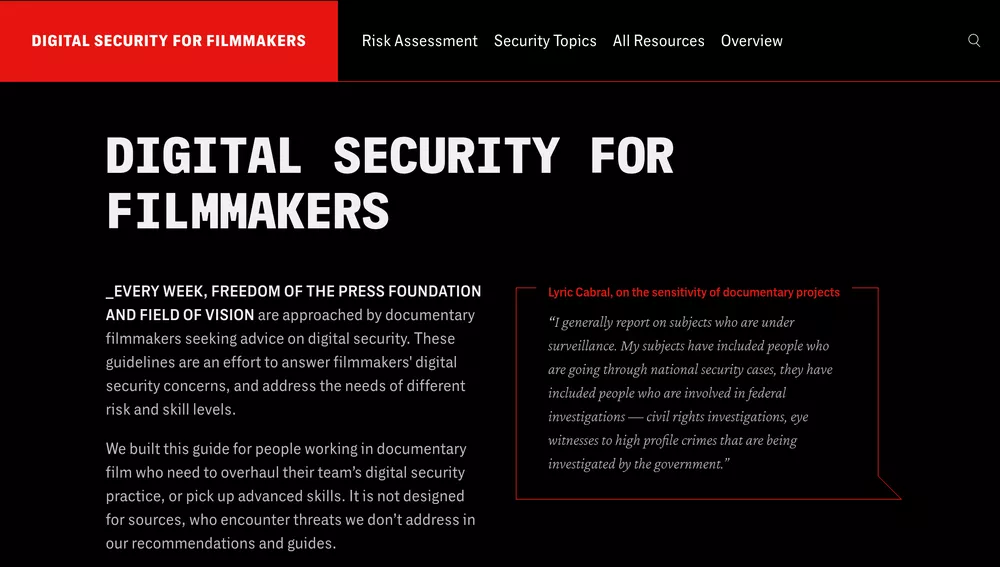 Announcing Platform and Clinic
In collaboration with renowned documentary production unit Field of Vision, our own digital security team at Freedom of the Press Foundation (FPF) is proud to launch Digital Security for Filmmakers, an in-depth platform with dozens of of digital security resources written specifically for security. filmmakers needs.
In addition to this resource, our expert trainers will host a digital security clinic from September 29 to November 3. The Digital Security Clinic, hosted with Field of Vision, features group training sessions and one-on-one consultation spaces open to all film professionals who complete a brief intake. poll .
Navigating the platform
Both first-time visitors and seasoned digital security planners can use the interactive Risk Assessment module to work through the Digital Security for Filmmakers platform, identifying topic guides and resources that pertain to their priorities of security. This step-by-step risk assessment approach is an essential digital security skill, guiding filmmakers as they make connections between their most valuable information and the best defensive strategies to keep that information safe.
Each resource is tagged by topic and anticipated skill and risk level, so filmmakers can easily zero in on the skills they need.
At the heart of the platform is a collection of more than 30 resources with detailed instructions on a variety of security strategies. From the All Resources page, you can filter between security topics and even sort by skill or risk level.
If you have a general digital security issue, but are still not sure how to proceed with a solution, head over to the Security Topics section. We cover five main security topics, with varied strategies for protecting footage, communicating within teams or with sources, locking down your mobile and desktop devices, and preparing your team for fieldwork.
The Best Practices page lists the tips our team has selected for filmmakers looking for a concise digital security plan for now.
It is important to us to ensure that the resource is accessible to everyone, regardless of their level of familiarity with digital security. For those looking to gain a deeper understanding of digital security fundamentals, we offer an extensive glossary of terms used in the guide. Our best practices page highlights basic digital security practices every filmmaker should be familiar with, no matter their skill or risk level.
And, because digital security is only one component of a comprehensive security plan, readers can search our resource center for links to organizations that specialize in legal, physical security, or specific regional services.
Read on, sign up and get in touch
We are very excited to offer both the Digital Safety for Filmmakers platform and the Digital Safety Clinic to the community.
We hope you enjoy exploring the Digital Security for Filmmakers platform. We plan to regularly incorporate community suggestions for new content and update existing resources as the landscape changes.
Learn more about the Clinic schedule and how to register here.
As always, if you are a filmmaker in need of some specialized help from our digital security training team, please get in touch for more information.
Special Thanks
This resource would not have existed without the careful direction of award-winning filmmaker and FPF board member, Laura Poitras, who conceived of this project and brought it to what it is today. We are also very grateful to all of the media creators who gave us valuable feedback, guidance, and time along the way, including Lyric Cabral, Yance Ford, Elena Fortes, Melissa Gira Grant, Ed Ou, and Malika Zouhali-Worrall. And special thanks to our Field of Vision project partner, and host of the launch event Sundance Institute.
Contributors: Vincent Abruzzo, Erinn Clark, Allegra Denton, Shakira Evans, Kristen Fitzpatrick, Harlo Holmes, David Huerta, Micah Lee, Fei Liu, Mackenzie Lukenbill, Olivia Martin, Kunal Mehta, Catherine Seo, and Martin Shelton.
Interviewed filmmakers: Lyric Cabral, Yance Ford and Ed Ou. Interviews conducted by Henrik Moltke and Harlo Holmes.